Surprise! How has everyone been for the past six months? :)
I never quite know how to break long, awkward blogging silences. Once I neglect to write for more than a month, it feels awkward to sit down and write something. Do I try to catch up? Do I continue like nothing happened? Do I make an over-dramatic gif? (Yes).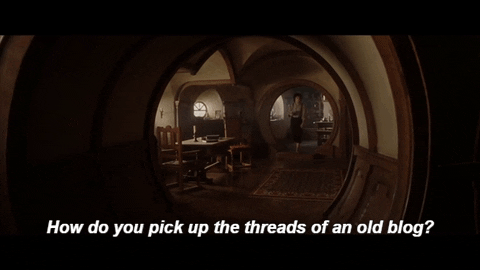 Of course the longer I procrastinate, the stranger it becomes, until finally I'm trapped into writing one of these pointless posts to spring onto my unsuspecting readership who forgot they were still subscribed. Surprise! :)
AGH!!! I know, terrifying.
But what prompted my disappearance? And why have I returned?
The short explanation for my six-month blogging hiatus is that (coincidentally, just like the time I pulled this stunt on my previous blog) I've also been pregnant for most of the last 6 months. :) Something about the combination of morning sickness and computer screens just really does not go well together in my world.
Thankfully, I'm beginning to feel much better with only the odd day of morning sickness here and there, and I thought I might try to tackle a cautious return. With Beatrice growing more into a little girl every time I blink, and another dear little one due to arrive this summer, and the everyday moments of sharing life with my best friend and true love and our little, growing family, I'd like to have a spot to share some snapshots of this sweet and crazy life again, so here's to (another) fresh start. :)
For now, I think I'll leave this post at that. The silence has been broken. The deed is done.
See you soon. :)